The reason why Laurel Burch totes are so much fun is because they express joy and happiness to anyone who sees them along with being easier to use. Her totes come in a wide variety of styles and colors. Each type is unique to its own and is a fashion statement for each lady that uses them.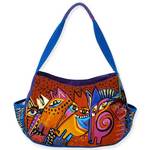 A tote differs from a hand bag by generally being much bigger in size. This allows for the opening to be much larger and allowing the lady more room to find just what she has already placed in her tote so she can use it like her wallet. Most totes also have two handles, one for each side of the upper bag. This also differs from the hand bag or purse that generally only has one handle.

The top of a Laurel Burch tote can be of two varieties. There is the open tote or it might have a clasp and other ones have a zipper to enclose the tote's content. The ones with a zipper closure are sometimes referred to as a travel overnighter bag.

One of the more popular totes that Laurel created was the Indigo Cat tote. It has three different shades of blue on the exterior where a cuddle family of cats is sitting watching every move of those in their vicinity. The opening can remain open or closed with the snap that is built into the upper seam. This opening is 21" long and allows for finding that item you are looking for extremely easy. The tote itself measures 17" by 7" by 11". The straps are long enough you can place them on your shoulder but short enough you can carry it in your hand at waist length. The interior of the tote is also lined with a moisture resistant material to reduce the chances of a spill of any liquid from ruining the tote and making a stain on the exterior.

As an added touch of elegance to this wonderful tote is a line of turquoise sequins that are sewn into the fabric in front at the ends of the tote. The butterflies on the ends also add a bit a flare and are in royal blue and turquoise to help had character to this great looking tote bag.

There are over 40+ different types and styles of totes, and overnighter bags available from the artist Laurel Burch. The most popular ones come in as many as four different sizes from the medium scoop and tote to the large tote and the oversized tote. This way you can always have the room you need for the essential items you just have to have with you and still be in style no matter where you travel too.

All of the Laurel Burch totes are fun to carry and uplifting to look at. They inspire happy emotions from all that gaze up at them, no matter what their taste in art is.
Recent Posts
Why Laurel Burch loved cat designs Why Laurel Burch loved cat designs come from her quest to find …

Did Laurel Burch have any Children Laurel Burch had children from her first husband. They include h …

Describing Laurel Burch's DesignsDescribing Laurel Burch's designs is not something that would take …