Why Laurel Burch loved cat designs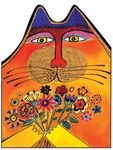 Why Laurel Burch loved cat designs come from her quest to find comfort to offset the pain of her rare bone disease. Laurel could not be as active as other children and the petting and cuddling of cats in her lap brought her much joy as the other children would play. Her bones were so fragile she remembered when bones would break while simply walking or being bumped by a person passing by her. This was an inherited disease of which there is no cure.
What surprise most people about Laurel Burch was that she had no formal education in the arts or even a high school diploma. Her adaptation of cats into her work was purely inspirational from the strays she would encounter in her travels. Some people have speculated that the main reason for the cats was their ease of creating happy images with them. Laurel was stubborn and determined but had limited movement of her body due to the bone disease. The cat paintings and designs were original but also easy for her to create.
The big heads and wide open eyes of the carts in many different colors and shapes would bring joy to her heart when she created them. This is how she expressed her pain, by creating the opposite, happy cheerful pictures with many bright colors. This way joy can be had be any that might view them.
Laurel Burch had a way of transforming the cats in her creations into mystical proportions. The big eyes can almost peer down into the souls of those admiring her work. The colors the cats would be painted contributes to making a person feel better about themselves and life itself.
As anyone who has ever seen her cats would observe most of them are in the sitting or laying position. This is how Laurel sees them in her mind. It has come with years having restricted movement herself. To help comfort her, Laurel would at time group many cats sitting together. This is one of the mechanisms she would use to chase the loneliness away from her life while her bones were healing.
When a pair of earrings of cats would be closely looked at, one will notice that they are in most instances they mirror images of each other. There are also pieces of art that would physically the same but only painted differently. This expression would help Laurel reveal her inner thoughts and feelings so joy could be felt by all around her.
It is for the purposes the joy and happiness that Laurel Burch uses cats in her creations. It is her expression of the great deal of pain she has had to endure in her life in a positive way that is truly inspirational to all that know her and her work. Her cats are warm and welcoming without a hint of fear, pain or discomfort in any of them. For many the eyes just say, "can I jump in your lap and purr for you". by Douglas Gray Back to the Articles menu page Copyright © 2013 by Colorful Crittters - may not be published without our permission
Recent Posts
Why Laurel Burch loved cat designs Why Laurel Burch loved cat designs come from her quest to find …

Did Laurel Burch have any Children Laurel Burch had children from her first husband. They include h …

Describing Laurel Burch's DesignsDescribing Laurel Burch's designs is not something that would take …