The Blank Laurel Burch Journal is a great way to become a writer. The best type of journal to have is one that can help inspire you in the creation of your written words. This is the purpose of the wonderful Laurel Burch journals.

In total there are 23 different styles with uplifting images on the cover and pages of the journals made by Laurel Burch, this original American impressionist artist. Each one of these original journals is made to help the writer in you to flourish. To help you keep your place instead of having to look for it, there is a soft textured ribbon to help mark your place. If you have a small memento you wish to accompany your journal like a flower, there is a pouch in many of them so you can always have it with your journal. The paper used for the creation of these journals is made of an acid free wood pulp that accepts ink from both a fountain pen and a ball point.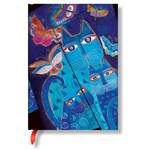 The size of the journals varies from design to design. This makes each one unique not only with the images but the size of the paper your thoughts will be on. There are the ones that measure 3.5" by 7", which can slip into most purses or clutches. There is also the mini journal available that is only 4" by 5.5", which tucks into most pocketbooks and totes. For more discourse, you can also have the 5" by 7" journal if you desire. The smallest is the micro which is only 2.75" by 3.5",which are great to be able to tuck into your pocket and bring with you wherever you go. The number of pages also varies just a little depending on which one you choose. Many of them have 176 pages while there are others that are only 160 pages thick. Some of the journals are hard back covered while others have the soft fold over version.

The original art works by Laurel Burch which are placed on her journals to help inspire your writing, include her world famous felines and Moroccan Mares and Horses. There are also the Soul and Tears journal and First Kiss Journal that speaks to the heart of women. As a journal created especially for women, these First Kiss and Soul and Tears Laurel Burch Journal encourages written expression of placing life's emotions in words as a way of dealing with the events of her life. Another great Laurel Burch Journal is the Ocean Song Journal. Sometimes it is easier to express one's self in words than telling others of what is occurring in their life.

There are also the uplifting images that include those wonderful Nodding Blooms Journals and Florescence, Seraphim and Serpentine flowers Laurel saw in her mind that always bring hope and joy. The Hummingbird, Flutterbyes Butterflies and Peace Moon are other favorites of Laurel Burch fans for expressing the wondrous events of life in the written word.

No matter what your life has in store for you, there is an inspirational journal that fits perfectly into it to help you keep track of your daily events or help you to write an inspirational poem or story for others to enjoy. These journals are made to contain just what you want to place there and last a life time or longer as a reminder or as inspiration to others. How you use your words is a personal choice that only you get to decide on, so make sure to dress the words properly in a beautiful and stunning Laurel Burch Journal.
Recent Posts
Why Laurel Burch loved cat designs Why Laurel Burch loved cat designs come from her quest to find …

Did Laurel Burch have any Children Laurel Burch had children from her first husband. They include h …

Describing Laurel Burch's DesignsDescribing Laurel Burch's designs is not something that would take …