Laurel Burch socks can be fun and with 50 different styles and designs to choose from, there is at least one if not more that can fit your needs and taste. Included in this collection are the ankle high or short socks, standard socks, slipper socks as well as sublimated trouser socks. Each one has an original Laurel Burch design in or on the woven material or a cat, dog or horse theme in the wearable artwork.

The short ankle socks are purchased in sets of 2 pairs. As an example the Mystical Horse will arrive in both lime green and turquoise as the base color with a black background where the horse and butterflies are roaming. This type of sock is made from a cotton blend and the original Laurel Burch art work is part of the woven fabric.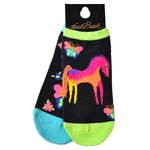 The largest section to choose from is the standard sock. These socks are made of 70% cotton, 20% nylon and 10% spandex. They only come in one size that fits adults from 9 to 11, which is the normal sock size that fit most but the very largest shoe size. Again the original design is woven into the material so it will never fade or disappear.

The warm and comfortable slipper socks are a favorite of most Laurel Burch fans. They are made of a soft and cuddly cotton blend with a cuff made of 85% acrylic, 10% polyester and 5% spandex. Each one measures 15" long from the toe to the cuff. The bottoms of these socks are covered with a non-slip material to make them safe to walk around your home even on waxed floors.

The last style is the sublimated trouser socks. There are only three designs available in this style you can wear under your pants. They are made of 100% nylon and the Laurel Burch design is heat transferred to the material and not part of the woven material. This makes the design a beautiful work of art for your entire leg.

While the feline is the main character in a good portion of the Laurel Burch sock collection, all of the other animals that use to cheer Laurel up are also present. This includes Pegasus, dogs, puppies, leopards, giraffe, fish and horses. Also available are the celestial moons and stars to help you feel at ease when you are wearing them.
Every pair of socks in the Laurel Burch collection has an original design by this world famous impressionist artist. Just like in her canvas works of art, the socks are vivid in their use of color and the characters can bring a smile to a person no matter what mood they are in. Even the ones with a background of black and other dark colors make the bright colors of Laurel Burch design pop off the sock, and they have a way of transforming the mood of the wearer and all that see them into a bright and cheerful mood so happiness surrounds the person wearing them.

There is nothing more comforting or soothing than looking at your feet and seeing an original Laurel Burch design staring back that only wants to see you smile.
Recent Posts
Why Laurel Burch loved cat designs Why Laurel Burch loved cat designs come from her quest to find …

Did Laurel Burch have any Children Laurel Burch had children from her first husband. They include h …

Describing Laurel Burch's DesignsDescribing Laurel Burch's designs is not something that would take …