Everyone notices me when I wear my Laurel Burch scarf out on the town. The favorite one in my collection is the one called Blossoming Spirit. Not only because of the wonderful cat it has on it, but the softness of the silk I feel next to my neck when I wear it.

The Blossoming Spirit silk scarf is not an attention grabber because of bright colors but with the beautiful signature cat is has on it. The colors Laurel placed around her cat also help to accent it so the charm of her design can manifest itself to its fullest. To help visualize it I will describe the details of this wonderful scarf.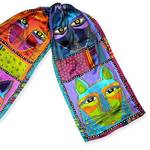 The cat is a spotted blue one and she sits in the lower right hand corner of the scarf. She has light green cheeks and light brown eyes. Around her are flowers in shades of red and purple with green leaves. There is also a beautiful butterfly off in the distance from the cat. This is all set on a black background with what appears to be white stars filling the sky. The edge of the silk scarf is bordered with an orange base that has many flowers scatted around it. There are many of these flowers in red and purple with a variety of leaves floating nearby.

As one can see by the description the Blossoming Spirit silk scarf does not attract attention because of any neon colors or wild designs but because of its unique impressionist images that is not overbearing with color. The blend of the images and colors are what attracts the eyes of those around me to its true beauty.

Another one of my Laurel Burch silk scarves that is also a head turner is the Kindred Felines. As one might expect there are a couple of cats standing in this scarf who are next to each other. One has a base color of yellow orange while the other is a lavender. Both have the signature designs on them that Laurel Burch cats are known for. This includes spots and flowers. The silk scarf has a color background that is light purple towards the ends which gets darker in the middle. At the opposite end of the scarf from the cats is a design in red that blends in with the background. There is also a blue design in the middle again that blends into the background around its edges.

These wonderful and soft silk scarves that were designed by the famous American Artist Laurel Burch are unique in their appearance and will always turn heads at parties, gatherings or when you are just walking around town. Being 54" long and 10" wide they can be worn around your neck or on your head as a cover. The choice is yours when you want to be stylish with this impressionist art.
Recent Posts
Why Laurel Burch loved cat designs Why Laurel Burch loved cat designs come from her quest to find …

Did Laurel Burch have any Children Laurel Burch had children from her first husband. They include h …

Describing Laurel Burch's DesignsDescribing Laurel Burch's designs is not something that would take …