Do women wear scarves today? To simply put it, yes. The scarf is an accessory that has been used by females on earth since recorded history began. They are in every culture around the world and never seem to go out of fashion. They are seen on the top of a woman's head, around her neck and even some ladies use them around their waste or tied to a purse or hand bag for an added flare of fashion.

The ladies scarf has more reasons for being worn than just as a fashion statement. Many ladies in the Middle East wear them for religious reasons as do many in the western nations of the world. This includes both Christian and Muslim faiths.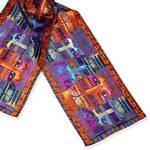 Another reason for a lady to wear a scarf is cover her hair. This can be simply to cover up curlers when she is in public or to protect her hairdo when inclement weather such as rain, snow or high winds are in her vicinity. The scarf is also used to keep a ladies head warm when she chooses not to wear a hat in cold conditions.

The ones worn for religious reasons are generally of a solid color while for warmth the fabric is generally wool or cotton. The fashion scarf differs from that in both aspects. Most fashion scarves are of a light weight material which is generally silk. The silk scarves are also usually decorated with some sort of pattern or images that help a lady to express herself. This can be either for her personality or mood at the time she is wearing the scarf.

For the lady that is in a good and happy mood or just needs cheering up one of the preferred scarves are those that were created by the American impressionist artist Laurel Burch. Her use of colors along with animal figures, mostly cats, is a cheerful way for a lady to express herself.

Other animals used buy Laurel includes canine, horses, butterflies, mermaids and fairies. Not only did Laurel use animals in her art but also celestial images and many many colorful flowers. These images are bright and cheerful and the same ones she would see when she escaped in her mind to a peaceful place while she was recovering from the many injuries and illness that plagued her all of her life.

The sizes in which you can find a Laurel Burch scarf vary. There are some that are 10" wide and 54" long while others are 11" and 12" wide but only 53" long. There are those with fringes along with many that have the traditional hem at the edge. The exact finishing appearance of each scarf was set by Laurel's mood at the time she created the design.

While scarves have had many uses of the centuries, if you need one to cheer you up or express your good mood, one of the many Laurel Burch scarves should be on your list as an option.
Recent Posts
Why Laurel Burch loved cat designs Why Laurel Burch loved cat designs come from her quest to find …

Did Laurel Burch have any Children Laurel Burch had children from her first husband. They include h …

Describing Laurel Burch's DesignsDescribing Laurel Burch's designs is not something that would take …