Do men really drink out of cat themed mugs? Yes there are some that actually do. Men that like or love cats do so for many reasons. Some men love their cats, and cat related items just seem to fit.

There are also the types of man that loves the king of the jungle, which is a large cat the lion. They are manly and ferocious. So yes there are men that prefer cats and at both ends of the spectrum from the little soft lovable house cat are in there along with the full mane vicious lion of Africa are also included.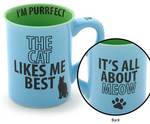 The many cat coffee mugs that were created by super fun cat lover artists are at the one end of the spectrum that only includes the soft furry lovable and cuddle cats of which most have a mind of their own. One of these mugs that come to mind that really express this with the saying "It's a cat's world" and on the opposite side it states "I'm just here to open cans". To help accent the mug there are numerous cat paw prints scattered all around the exterior surface of the mug in black. Another popular coffee mug on this theme is one that states "Dogs have owners Cats have staff", and the one that states how a cat thinks perfectly by saying "cats make perfect pets out of their owners".

For the cat man that is constantly on the prowl for a feline mug there is the Crazy Psycho Kitty Cat mug. This is a yellow based mug with a saying of "Sleep all day Pawty all night" and it fits perfectly for many men with this mind set. There is also the man that does not want to be bothered. This attitude is visually expressed with the action and saying of "Talk to the Paw" coffee mug. Or "What part of Meow don't you Understand".

There are also men that love a lady who is a cat person. They have a choice, learn to love or like cats or always be an outsider. This coffee mug is in blue just for him. It says "the cat likes me best" and on the reverse side "It's all about Meow". Best of all inside the mug so you can be remembered of this fact it says "I'm Purrfect". What more could a man asked for in a cat themed coffee mug.

While there are a few men that do not like or prefer cats around them, there are still many that do. It all depends on the nature of the man and his attitude towards animals and the type of lady they love. There are a few that just will refuse to admit they like cats. For those men the coffee mug that reads "Dogs are people too" with bones plastered all over it could be the perfect fit for your man to drink from.
Recent Posts
Why Laurel Burch loved cat designs Why Laurel Burch loved cat designs come from her quest to find …

Did Laurel Burch have any Children Laurel Burch had children from her first husband. They include h …

Describing Laurel Burch's DesignsDescribing Laurel Burch's designs is not something that would take …