Cat Lovers and Dog Lovers. Be noticed with a Laurel Burch Umbrella. The collection of Laurel Burch Umbrellas found at ColorfulCritters, like all of Laurel's art work, is designed to cheer up all that see it. This is why you will be seen and noticed by those in your vicinity when you are using your Laurel Burch umbrella in the rain or to block the rays of the hot sun.

There are half a dozen unique designs applied to the collection of umbrellas that are offered at ColorfulCritters. Of those there are six styles that are considered to be compact so you can place them in your purse. The other half dozen are made in the traditional fashion with a solid stick and a cane handle at the end. Each design available is made in both styles so you can always have the covering of your choice no matter how you wish to carry your protection from the elements.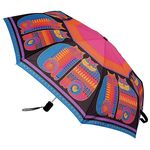 Four of the Laurel Burch Umbrella styles of designs are of course with the famous Laurel cats on them. This includes the very popular indigo cats along with the rainbow cats, polka dot cats and feline family umbrella. Each one is an original Laurel Burch design that is made to uplift the hearts of people even when the day is dreary and wet.

For the Laurel Burch fans who are dog lovers, they were not forgotten. There is the dog and doggie design which has a family of four including both puppies along with momma and papa dog. They are colored in blues and green with happy flowers all over them. There is a bright colored red strip near the top of the umbrella. You will be noticed for the cheerful design that is placed there to warm the hearts of those close to you. The covering is made of 100% pongee and when open it covers an area of 42". The main stick is also 34.5" long when closed.

Rainy days will welcome The Harmony Under the Sun design which is meant to inspire and uplift all around you. This has a sun with people on its perimeter standing on her while holding hands in unison. This image repeats itself 8 times on the umbrella so no matter what direction a person is from you, they will see and enjoy this inspiring visual message. If you choose the compact version of this design it covers an area of 42". When folded up it is only 11.75" long and 2" in diameter. The covering material is 100% pongee.

No matter what design you choose or the type of weather you decide to open your umbrella in, you will be noticed. Not only does this accessory serve a purpose but it has a character all to its own. Adding to your style or personality so all around you will be uplifted and cheerful when they gaze up you under your umbrella.
Recent Posts
Why Laurel Burch loved cat designs Why Laurel Burch loved cat designs come from her quest to find …

Did Laurel Burch have any Children Laurel Burch had children from her first husband. They include h …

Describing Laurel Burch's DesignsDescribing Laurel Burch's designs is not something that would take …