Where did Laurel Burch Learn to Design
Where did Laurel Burch Learn to Design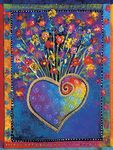 Where did Laurel Burch learn to design is an easy question to answer. It was from her life and surroundings. As for a formal educational background, Laurel had very little. Since she was born, she had to spend much of her youth in the hospital, clinics and bed at home recovering from broken bones. Because of this, Laurel missed a great deal of school time most others her age where attending.
Laurel spent most of her time alone in beds recovering from an inherited bone disease that caused her bones to be brittle and break like twigs. Because of this she had to be tutored while in the recovery of each break. This was a challenge for Laurel since she had spent more time out of school learning than in one.
As with all people that have a debilitating illness, Laurel had a choice. She could suffer and whine about it or escape into her imagination and create a happy place. This happy place was filled with bright and cheerful colors and images. She took her pain and transposed it into something of beauty.
As time marched on, her life was not easy. After her parents broke up, Laurel decided to hit the road. This occurred at the age of 14 and all formal education had ended for her. She now had to spend her time looking for menial task she could perform in exchange for places to sleep and food to eat.
The inspiration for her designs came from the safe place Laurel Burch made for herself when she was recovering from all of the bone breaks. In her life time she would have over 100 bones break on her. At times the pain was agonizing. This is why the inspirations created by laurel are so colorful and uplifting to counteract the pain she was feeling.
In the periods of time Laurel had out of bed, she would pick up items she would find in her travels. Since she had no money, she also walked everywhere. This slow pace made it possible for her to find bits of cloth, buttons, old coins and metal objects that had been discarding by others. She would then fashion them into a design she had created in her happy place.
For those who are not aware of it, Laurel had a natural instinct to designing art objects. She began with simple items like earrings and necklaces. This was done because this is what the material she had to work with. The designs came from her own personal taste of what she thought was happy and cheerful. It just so happens that these designs were also appealing to the masses and her work has since been enjoyed around the world, literally.
Like many pioneers in the art world, Laurel Burch was a natural. She did not learn art design from anyone or at any formal school. Instead the art world now learns from her designs and creations. She discovered her talent that is hidden in all of us. Fortunately for the world, she learned how to express her talent for designing art objects so the world can learn from them and enjoy them.

by Douglas Gray

Back to the Articles menu page

Copyright © 2013 by Colorful Crittters - may not be published without our permission