What's the top selling Laurel Burch design or theme
What's the top selling Laurel Burch design or theme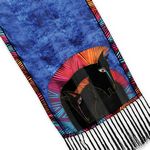 What's the top selling Laurel Burch design or theme is not to debatable. Of course it is the brightly colored cats that came from the imagination of Laurel Burch. This type of design can be found not only in many different styles of her famous earrings, but also on scarves, socks, figures and paintings to name a few.
What really sets the Laurel cats apart from all of the rest is the mosaic of colors she would use in coloring them. While there are a few that are of a solid color, most are covered with a multitude of colors and designs that could only come from an artist with a wild and diverse imagination.
One of the places that the Laurel Burch cats care best represented are in the line of hand bags she produces. This allows her to not only create unique cats with a multitude of colors, but also add additional colors and designs in the background to support the cats.
The hand bags and totes are made in a wide variety of patterns and sizes. This makes it possible for the lady of the house to pick and choose the right one for every occasion. Because of all the color that is infused in each of the cat styled handbags, it is easy to mix and match them with a many different outfits a lady might want to wear.
After the earrings went into mass production in China, with Laurel's approval, she final had some spare time. This is when she turned to blank canvas that turned into creating her cats in their full glory. The canvas was a natural place for her full talents and imagination to truly run wild. The cats, her favorite image since she was young, were the focal point of her creations again.
At times she would just paint one cat. There were other times she would fill the canvas with a multitude of cats. Each cat was unique and of different colors that seemed to fit together. The most common position a cat will be portrayed in is the sitting position. Why this is true no one will ever know since she has already passed on from this life. One can only theorize it was that sitting was Laurel's favorite position. This way she would not be in danger of breaking a bone.
For those of you that are looking for an item that will go with many different outfits and still be stylish, the Laurel Burch collection of silk scarves would be a good starting point. These are filled with one of the widest selection of cats in as many colors and designs as you can imagine. The one commonality they all have is that they are made of silk. They come in lengths up to 50 inches long and are made to go around the neck or on top of your head. No matter how you decide to wear your colorful cats, you will be noticed.

by Douglas Gray

Back to the Articles menu page
Copyright © 2013 by Colorful Crittters - may not be published without our permission