Laurel Burch has Made Fashion Fun
Laurel Burch has Made Fashion Fun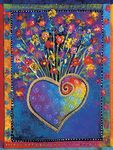 Laurel Burch has made fashion fun with the use of bright colors and images that are appealing to most women. It is the attitude this once budding flower child had from the beginning that is inherited in all of her creations.
The very first fashion jeweler created by Laurel was intended to make people happy, not make money. She made the first pieces to adorn herself when she was with friends in San Francisco. When someone would make a positive comment about an item she was wearing, she would gladly give it to them. This free spirit of Laurel was in every piece of jewelry or art work she has ever created.
Today a lady of fashion can place some of Laurel Burch's creations from the top of her head to the bottom of her feet. This line of fashion accessories is just that, additional items a lady can wear that is fun and appealing. It is the point of wearing fashion jewelry and accessories, to have fun with it is its reason for being. Laurel knew this and has made it her life's mission to share this fun and joy with the world.
One of the best examples of this fun injected by Laurel Burch with her fashion accessories is the bright colors they will be made of. It is almost impossible to have a frown or be sad while wearing bright color colors in your ears or on top of your head. They just make a sad person happy when they wear them. They also inspire and uplift those around the person who is wearing them.
The fashion jewelry and accessories were the first passion for Laurel, but not the last. As her fame grew, so did her time to enjoy more of life. This is when she took up painting. Just like her fashion jewelry, the paintings use an infusion of bright colors and cheerful designs that uplift one's heart when they look at them. By just being in the same room with one of more of these inspiring paintings changes the mood of all that are there to a fun and happy atmosphere.
Laurel Burch also made many figurines. These are not sculptures but cast resin items in the shape mostly of cats. It is the way they are painted that sets them apart from other items in the art world. Again Laurel used bright colors and mixed matched them on the small figures to help brighten up any spot they might be placed. These are small, less than a foot tall, figurines that can help set a positive tone for any room.
It is true that Laurel Burch has made fashion fun with what she has created. It was her natural gift to the world. With an infusion of bright colors and cheerful images, Laurel placed happiness above all else which has lead fun into the equation. The driving force behind this was ironically all the pain and suffering she had to endure every day of her life. This was from the rare bone disease she was born with. She had the ability to take a negative and turn it into a wonderful positive.

by Douglas Gray

Back to the Articles menu page

Copyright © 2013 by Colorful Crittters - may not be published without our permission