How long was Laurel Burch a Designer
How long was Laurel Burch a Designer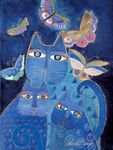 How long was Laurel Burch a designer is hard to pinpoint. By most accounts, her career as an independent art designer of original creations can be traces back to her youth, when she was bed ridden with broken bones. This is when she would create little nick knacks for other children in the same hospital ward as her.
Laurel Burch never had in formal art training. On that point, she had very little formal education at all. She had to drop out of school and moved out of her family home at the age of 14. From that point on, the world was her teacher. As with most young women, she liked to wear jewelry. Since she had no money and only held jobs that paid her room and board, she had to improvise.
This improvisation of her helped her to further develop her natural gift for making items out of material she could find laying around for free. In essence one could say Laurel was a designer nearly all of her life. As a professional designer, that portion of her life did not begin until the 1960's when she was creating works of art and selling them out of a tackle box on the streets of San Francisco.
By her mid 20's she had grown a reputation for unique and stunning jewelry that many of the local stores started to handle her merchandise. This is when she first formed Laurel Burch Artworks. What might amaze many admires is the fact that she would go to metal junkyard and acquire raw materials for her creations. She would then take them back to her apartment that she shared with her first 2 children and hammer the metal into object of art on the back of an old frying pan. She recounted in an interview just before her death at the age of 61, that is was simple work for her that she could do, but the neighbors hated the bagging in the pan with the hammer.
By 1971 she had found financial backing, or by most accounts, it found her. This is when she traveled to China and began to have her art designs manufactured in mass quantities. This is when Laurel discovered the finish of cloisonné. This is a special way of applying enamel paint so it would be more durable and long lasting.
Once the manufacturing of her designs was being handled by others, she finally found the time to expand her art designs into figurines and paintings. This is when the paintings of cats first started to appear. Even when she had broken her arm in the later portion of her life, Laurel would still pick up the brush and paint. She would just ignore the cast that was on her arm and continue to express herself on canvas.
In short Laurel Burch was an original art designer all of her life. Fortunately for the art lovers of the world, her company has continued under the guidance of her son, which still produces her works today.
by Douglas Gray

Back to the Articles menu page

Copyright © 2013 by Colorful Crittters - may not be published without our permission