How Many Designs has Laurel Burch Made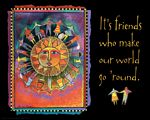 How Many Designs has Laurel Burch Made
How many designs has Laurel Burch made in her lifetime will never be known. The main reason is that there are so many of them and no one has ever attempted to count them. There are individual items that were created by authorized manufactures of Laurel's designs that have been recorded.
In 2004 a German button company which began to produce buttons designed by Laurel Burch. These are sewn on buttons that depict cats and other animal. The production of these buttons lasted until Laurel's death in 2007. At that time there had been 33 different designed buttons manufactured this German company. Each one of these buttons has the trademark signature of Laurel along with the manufacturing stamp from Dill. These are the only original buttons made from Laurel Burch designs.
The button is a great example of why the exact number of designs by Laurel will never been known. While there are only 33 buttons authorized by Laurel Burch Artworks to be created, there are many more on the market. Laurel's designs have been placed on fabric. This is a source of raw material for many women that make handmade cloth or fabric buttons. These generally have the face of a cat on them and are usually a one of a kind. The total number of these fabric buttons that have been created is unknown.
As for the number of handbags and totes that were designed by Laurel Burch, the number is over 100. The exact number cannot be found since there are more than one manufactured that has been licensed to create purses, bags and totes. One place is selling 133 different ones while others are only creating and selling 74. There can also be a difference in the way you count the use of the designs by Laurel. In the category of handbags, there can be up to 5 different styles of handbags and totes that use the same design. Would these be considered one, as some do, or 5?
The best place to know if you have a question about any items pertaining to laurel Burch and if what you have found is an original design by her would be one of her books or journals. There are 4 different books on the subject that cover her designs of her felines, Christmas themes and quilts. There are also 5 journals that are being published of Laurel Burch's designs. These journals include the felines, mystical horses and spirit of Womankind. These are wonderful reference material along with being a record of some of the best loved designs by Laurel.
One reason an exact number of Laurel Burch designs will never be known is because she created them her entire life. This includes the final years when she was restricted to a wheelchair and could not even eat solid food. She never stopped expressing herself on paper that could be transformed to a product that has been sold to those that love this art. They took a lifetime to create and almost that long to count.


by Douglas Gray

Back to the Articles menu page

Copyright © 2013 by Colorful Crittters - may not be published without our permission