Thoughts about collecting Laurel Burch designed products
Thoughts about collecting Laurel Burch designed products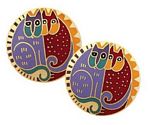 Thoughts about collecting Laurel Burch designed products. First, you are only limited by the ones you place on yourself. As an example take the handbags Laurel designed. A majority of them include one or more of her trademarked cats. While they all look similar, they are distinctly different. This is mainly due to the way they were filled with colors and patterns. Each one has a characteristic all to itself while still being alike the rest.
Because of the similarities between the many handbags Laurel Burch designed, one might venture to say you would only need one. That would be a misconception. As every lady of fashions knows, not only the design of a handbag is important, but also the main color and size that will make them accessories the right dress or outfit appropriately. For this reason several different handbags is very common to own by many women.
One of the main advantages of having many different handbags by Laurel are they can also serve as artwork on display. Many of the bags have the same types of cats as Laurel Burch paintings. While many designs often feel their handbags are works of art, Laurel's really are. This is why they do not necessarily have to be stored away in a closet. The one problem many women face when displaying their Laurel Burch handbags is this advertises to their friends they have them. This leads to many friends and sisters asking to borrow them.
Another item designed by Laurel Burch that can have a dual purpose is the many silk scarves she made. These again have the ionic cats on them along with other creatures. Each one is very colorful and unique. Many women find that placing them around the house, like on coffee tables and back of furniture as a certain ambiance to the room. There are even a few ladies that place them on walls as one would do with a tapestry. Not only does this cheer the room up and the people in it, but saves room in the drawers or closet space.
For many traditionalists, the collecting of Laurel Burch earrings and jewelry is a goal. There are too many different designs and types to name or list them all. What is constant with this line of items, like most other ones made by Laurel is that the fantastic felines are ever present in many of the designs. Also include in the earring collections are horses and butterflies. Each one has the same uniqueness to them that help separates them from other collections.
For the serious collector, they can invest in a few of the original paintings Laurel created in her lifetime. They are mostly of her beloved cats. Laurel Burch's love for the felines is unequaled. Her art work can even be seen in one of the animal shelters she helped to establish in the bay area. By owning some of her work today, you will be able to watch its value grew. As with all art work, they increase in value since the artist is unfortunately passed on from this life.
by Douglas Gray

Back to the Articles menu page

Copyright © 2013 by Colorful Crittters - may not be published without our permission