Don't be surprised when you sister borrows your Laurel Burch hand bag or even your socks
Don't be surprised when you sister borrows your Laurel Burch hand bag or even your socks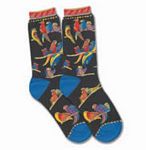 Don't be surprised when you sister borrows your Laurel Burch hand bag or even your socks. The reason is purely one that you will not be able to argue with because your sister needing cheering up. That is the magic with any art object that was created by Laurel has on those exposed to her work. They feel better about themselves and the world around them.
Laurel Burch created all of her art with a piece of her happy place included in it. This is a place that all of one's sorrows and pain of the real world no longer exist. It is also the reason why her handbags, earrings, scarves and socks are such a joy to wear and accessories with. They will bring a smile to anyone who wears or sees them.
This is why anyone that owns Laurel Burch jewelry and accessories will have to get use to not only their sisters borrowing items from them but also their mothers, aunts and friends doing the same. Using these inspirational items is one of the fastest and easiest paths one can take to change their mood and become happy again.
This can all be done for the simple reason that the bright colors and soft images make a lasting impression on those that see them. Remember Laurel Burch was one of the original flower children. This is why there is such an infusion of bright colors and happy images used in all of her creations. The darkest shade she uses in any of her art work was dark blue. It was still highlighted with bright yellows and others shades that were designed to bring a smile to the face of those around it.
There is one type of item created by Laurel Burch that you should never have to share, it is her paintings. They bring an uplifting feeling to anyplace they are openly displayed. A painting or print is also an item that most people, even the desperate to be cheered up, usually do not ask to borrow.
As for the rest of the Laurel Burch line of accessories, borrowing is just part of the culture in which they were created in. The very first Laurel Burch creations were just given away by her in the San Francisco area. She was very young and in the frame of mind that sharing with others and making them happy brought joy to her.
This type of joy and happiness is built into each item with the Laurel Burch name. It is one of the main reasons her artwork has grown to have a worldwide following of admirers. Any and everyone that using and wears Laurel Burch accessories passing on the gift of joy and harmony that Laurel herself placed in each piece of art she had created.
If you have just one or many of the Laurel Burch artwork in your collection, you should be use to them being borrowed. This will allow for the joy to be spread around and the reason for their original created by this famous American artist.


by Douglas Gray

Back to the Articles menu page

Copyright © 2013 by Colorful Crittters - may not be published without our permission